Advertisements
Visitors
Average 500/cat/day
Useful Links
Our small link collection, useful if you want to start or promote your business in UK
Business and Economy News:
> BBC news for Business - Their sub-categories: Asia Business, Market Data, Economy, Companies etc
> Guardian Latest financial, market & economic news and analysis | Business | The Guardian
How to promote your business?
> One of the best solutions on internet is Google Adwords, and everything is under your control. Pay per click, daily fees etc..
Other links
> Businesses and self-employed - Information about starting up and running a business in the UK, including help if you're self employed or a sole trader.
> More coming soon
Please, support us
Is B99.co.UK useful webiste?
Virtual Tour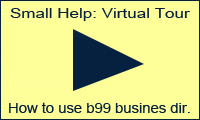 Popular category search keywords:
Search b99 with Google

Search B99.co.uk website with Google. Note: Google results are not real time, sometimes new pages are indexed only with few week delay. For real-time search use search field in upper-right corner.